| | |
| --- | --- |
| Posted by On Belay on May 22, 2016 at 2:30 PM | |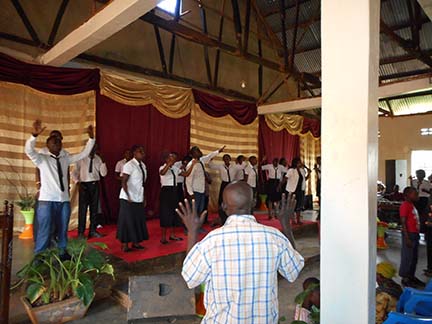 Arrival. We arrived after a long 23 hour plane ride. The flight was smooth and seamless. We met several wonderful people along the way: A mother of two young men, who lives part time in Seattle/Holland. A nice couple going on a cruise. Men working in Uganda from Canada. A Ugandan Professor teaching journalism. A brother/sister/friend on their way to Rwanda to run a marathon and taste coffee for their business (Sisters Coffee Company!). A team of Dutch Compassion International sponsors going to visit their kids. All of them engaged with us and were very interested in what we were doing. Customs was easy to pass through and our shuttle was waiting for us as we exited. We arrived at the J Residence motel around midnight, and had a quick nights sleep.
Africa. Ahhh… The familiar smells and sights as we started our journey to Kampala. Richard, our driver (see 2008 blog), was soooo happy to see us. A wonderful reunion! Our day began at the bank to exchange money. Then, off to the mall for water, cell phone, and air-time card. Next, to Gganda Village where we met with Pastor Prossy's daughter, who then took us up, to visit some of our young men. It was great to catch up, take some pics, and receive big hugs! Then off to Kaliti, where we were united with our sponsored daughers, Esther and Betty and many others. Our hearts were full. In the evening, we had dinner with Ronald, Frank and Vincent, some of our younger men, and had a wonderful time catching up.
Pastor. On Sunday, we visited Prossy's church. Picture our transportation: riding double, well triple, on boda bodas! (small motorcycle taxis) Hoffmans doubled up on a one and next to them, the Vons on another...mind you, that is three adults each on a little Honda 90 type Moto bumping up a road that is more like a path. Upon arrival, we were welcomed and loved. The service started at 10:00 AM and lasted to 1:00 PM! Wow! Nothing can compare with African worship. Then in typical Ugandan hospitality, they served us lunch! A spectacular meal of Ugandan tea, boiled potatoes, beans, and chapati. YUM! We returned to the hotel with enough time to try to connect to the Internet and attempt to blog, before dinner.
Grace and Peace,
The Von Hoffs