| | |
| --- | --- |
| Posted by On Belay on May 31, 2016 at 2:55 AM | |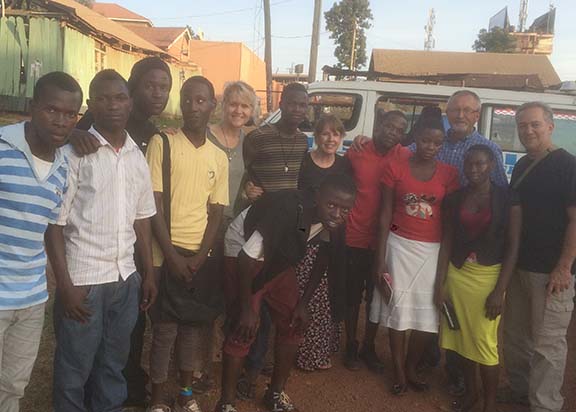 There is Hope for the Future. Thank you to all who have contributed to this story. All of you participated. Some of you knowingly, some unknowingly, but our stories often intertwine. Our ten day journey is now coming to a close. We have had very high highs and very low lows, but God is faithful. He who has started a good work is faithful to complete it. And we believe that.
Details. Our mission is to provide transitional support for aging out orphans. Our goals for this trip were: to assess the needs, to develop the infrastructure for discipleship and mentoring, and to provide a safety net in case of emergency. Let me tell you about Esther. She has completed Senior 6 (High School) and will be entering Kyambogo University. (Pronounced Chaambogo). She will be majoring in Social Works. She loves children and hopes to be able to work with them in the future. We have connected Esther with local Pastors and individuals who will assist her with discipleship, career counseling, tutoring, and help with all the challenges that come with collegiate life. The safety net for her is coming together.
Challenges. Living in Uganda is challenging. Things that take a few minutes in the States can take several hours. The government agencies are challenging. Many hoops to jump through and someone's hand is always out for "compensation." Traffic is challenging. A simple 15 minute drive took us over two hours. Challenging. The government closes a major highway because of a foreign diplomats arrival. So as our anxiety grew because of the long list we wanted to complete, we submitted and believed that the work that we accomplished was what we were sent to do.
Miracles Still Happen. Somehow through all of the challenges, we saw the hand of God working. Places where there was a breakdown in communication, a bridge was made and there was healing. Divine appointments abounded. Our health was very good and we always felt safe. Connections were made with the local church. At one point, we went to drop food to a local church only to find a young woman weeping uncontrollably. She needed work and God provided.
The Future. Esther is our first young adult actually in transition. However, there are 10 others that will be transitioned soon. We are currently working on a strategic plan to smoothly and seamlessly transition these young adults. We took our kids to a youth service at our partner church; we wish all of you could have seen our kids dancing, lifting their voices and hands in worship – in full abandon. Regardless of brokenness and heartache, they love their God and are trusting in Him for the future. We have much to learn from these young people that God is calling us to support. We are thankful for each one of them and what they have taught us. And thank you for pouring into their story!

Grace and Peace,
The VonHoffs