| | |
| --- | --- |
| Posted by On Belay on July 21, 2017 at 6:40 PM | |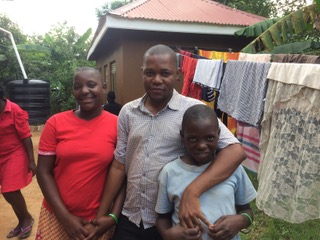 Vincent Kayongo is the manager of our operation in Uganda. It would be impossible to imagine how we could have managed all that has happened this past year without him. He is a gift to our ministry, a very close friend, and a joy to work with.
A year ago we had mentioned him in our On Belay blog. At that time he was just beginning to think about his place on our team, and now we are seeing God's hand in bringing him to us and leading our ministry in significant ways.
Vincent is a humble, unassuming man with a heart for the unloved and needy people of Uganda. He had a significantly difficult life and grew up on the streets of Kampala for years during his youth. He understands how difficult it can be for the youth struggling to survive and having no direction. His stories are so difficult to hear.
Vincent has had dreams of setting up schools for children in villages whose families have no means of sending them to school. He has personally spent the last several years of his life running his own businesses and learning different trades, so that he would be able to use his experiences to train others. Vincent has proven to us that when he dreams he acts and so we believe that one day he will reach out and begin these training facilities.
Vincent has become the father of our On Belay students and has proven to have skills and insights that have allowed our students opportunities to grow. He takes the students to school, buys them school supplies. He takes them to the doctor when they are sick and watches over them (and they have been sick a lot this year with malaria, typhoid and other serious illnesses). He encourages them in worship every morning and evening and purchases food for all of their meals while they are not in school, and living in our On Belay houses. He balances the budget each month and does all the accounting for our operation on the Uganda side.
There are many sides of Vincent. He has started a church while learning motorcycle mechanics and running a music studio at the Ugandan Cultural Center. Vincent has a musical gift and he mixes music for musicians from Uganda, Kenya, and Sudan. For now, we are blessed to be a partner with him as he has focused his life in leading our students, not just to survive, but to thrive and becoming future leaders in Uganda.