| | |
| --- | --- |
| Posted by On Belay on August 23, 2017 at 12:10 AM | |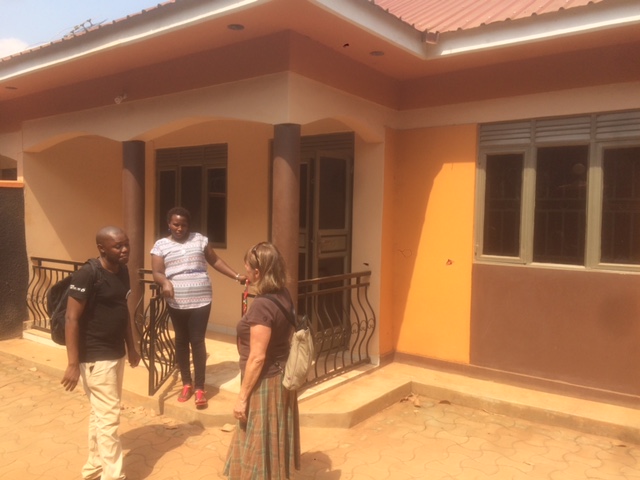 Isaiah 63:7 I will tell of the Lord's unfailing love. I will praise the LORD for all he has done..."
One year ago, in August of 2016, Bryan and Barb Hoffman and Cathi Von went to Uganda to prepare for taking on our 16 Ugandan students. There was a lot to do to prepare for them. We had hired Vincent, who met us in Kampala, and we set out to find a place where our students could live.
We hoped to be near Gganda Village where all the students grew up near Hope Children's Home. We prayed that God would direct us and make a way clear to us. So Vincent hired a property management company and we began looking at many places. We exhausted every possiblity but nothing really met our needs. So we thanked the manager and walked back to our hotel. We felt we would have to go somewhere else, because there was nothing that would work in the village. We were really discouraged.
On the way back to the hotel, there was a tiny property management sign lying next to the road written in small letters with a phone number. We decided to give that a try although it seemed unlikely to us, but we had no other options. So Vincent called them and two very young men met us at several places they had to rent. They had some possibilities but still there was nothing that could fill our needs and they weren't in the village. Vincent thanked the young men and as we were walking away he said, there was one other place that we should look at. We were reluctant, but followed them across a small stream back into our village.
We walked down a narrow road and there was a very newly built wall with two small houses behind it. We met a woman named Patience, who said they had two houses, but one was rented. We told her we needed two places, one for the boys and one for the girls. But we decided to look at what she had. The house we looked at was perfect and the price was right. It was exactly what we were looking for. We told Patience this would have been perfect, but we didn't need the house til December and we really needed two houses. She then said the neighbors would be moving out by then and we could also have the other house for the same price in December.
It was perfect and so we rented the one house where Vincent would live and were able to rent the other house in December. This seemed too good to be true and we are so thankful that our needs were met. In December, 13 of our students left their schools for the holidays and moved into their new home. They were so excited and it was awesome to see how God had provided for us. Several of our students are still able to live with family members.
The landlords, Tom and Patience Sengalama are amazing people. Their huge home was built adjacent to these houses and they had a chicken farm right there also. It turns out Tom is the head environmentalist for the United Nations in Africa who grew up in Gganda Village.
What a blessing this has been to have these safe houses in our village!