| | |
| --- | --- |
| Posted by Barb Hoffman on July 31, 2016 at 3:45 AM | |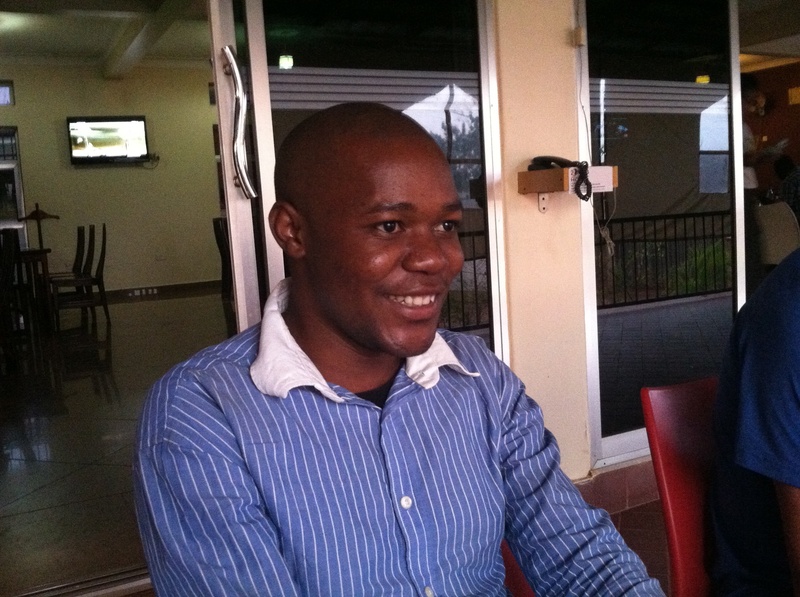 We are back in Uganda and we thought we would share with you one of the miracles of On Belay.  Often we do not see the tapestry that God is weaving together in our lives.  Little did we know 10 years ago when we first met Vincent what an important part he would play in the ministry of On Belay.  He is a monument of God's faithfulness, not only in his own life, but in our lives as well.
Vincent's Story
Vincent's mother was young and still in school when she got pregnant.  Because his father was already married, his mom decided her only option was to run away from home.  When Vincent was 3 months old, his mother could no longer care for him so she gave him to his grandmother who practiced witchcraft.   At the age of 6 Vincent's grandmother died and he was again returned to his mother.  She had since remarried and worked far away from home.  The new step father began beating him severely and this continued for 3 years.  At the age of 9, Vincent ran away from home.  
Vincent lived on the streets and did whatever he could to survive.  He slept in cars, churches, and cardboard boxes.  He ate food that was dropped on the ground, or what was in the garbage after plates were scraped at a local orphanage.  During this time, Vincent never gave up hope, and God began to stir in him a great love for music.  One day he heard music coming from a church.  He wanted so badly to learn to play the piano.  He offered to do work around the church if they would allow him to play the piano. Not only did he learn to play the piano, he learned of a Heavenly Father who loved him dearly.   But secretly at night Vincent would sneak into the church and sleep on the dirt floor.  No pillow, no blanket, just the warmth of an old piano bag to keep him warm.   
One day a visitor from the States came to the church and heard Vincent playing the piano.  He asked him where he was staying and Vincent showed him the old piano bag and pointed to the floor.  This visitor was moved to tears and wanted to help Vincent.  He offered to pay for his school fees so he could attend school.  Vincent was 15. School was diffficult for Vincent.  He had to borrow text books from other students and didn't have other necessary supplies or support to succeed. After school, Vincent started a brick making business and hauled water to survive.  He wanted to join an orphanage, but was told that he was too old.  
At age 19 Vincent was asked to help take care of the younger boys at a children's home.  The very children's home where we had begun working in 2006.  A relationship formed between he and "Papa Bryan", a relationshiip that continues to this day.  Bryan serves on the On Belay Board and Vincent, now 29, works at a music studio in Jinja mixing music, gives music lessons at the Ugandan Arts and Cultural Center, works in a motorcycle shop and leads a small church fellowship. When asked if he would be willing to help us with our kids he replied, "These are children (from the children's home) that I have loved for 10 years. This is an opportunity for me to keep loving them".  The kids love and respect Vincent.  He has been our eyes, ears, hands and feet in Uganda for the last two months. We would not be where we are today without him. 
There are many stories like Vincent's. Join with us in changing one life at a time. Be a part of someone's story!